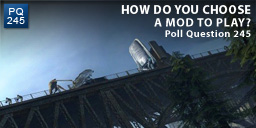 Obviously, I play everything.
I don't have to, but I feel it's required of me.
My reviews don't carry any more weight than other reviewers, except in the sense that everything I add now, I review, so regular readers can get a sense of how their tastes fit against mine.
But, not everybody plays everything. Or at least not immediately. They have to select which mods to plays because they don't have time for all of them.
At that point, they have to make a choice and that choice will use certain criteria. Sure, more than one will be used, but my poll only allows one choice, so which is the most important one for you.
If I had to select one, other than "I try everything", then I would probably choose "The screenshots or videos". I am a sucker for beautifully lit, atmospehric screenshots.
What about you?
The Poll