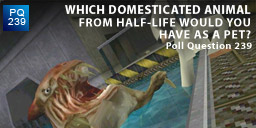 Two things got me thinking about this week's poll question.
The first has completely slipped my mind but the second was a news item on the BBC reporting that dogs kidnaps (or should that be dognaps?) have treble in the last year in the United States of America.
It makes sense as most pet owners would do anything for the pets. Worrying a bout stolen TV compared to a pet is nothing. Anyway, the idea of pets stuck and the next thing I know I am imagining a new game called NintenCrabs, which for those that don't get the reference is a play on Nintendogs.
There's another idea for a mod! You have to feed, clean, play with them etc. Don't forget what Cesar Millan says…"Exercise, Discipline, affection"
So, if you could have any domesticated animal from Half-Life which would it be and WHY?
Of course, Dr. Kliener was the first to do it with Larmarr, and we all know the trouble that pesky thing caused!
I think I would have to go with a houndeye. Close enough to a dog that you could probably take it for walks and play fetch with it, although you would probably have to rig up some sort of magnetic system around it's neck and only throw iron balls or sticks.
That said, if you like fish and have a big enough tank an Ichthyosaur would make a fantastic center piece.
What about you and don't forget the WHY.
The Poll