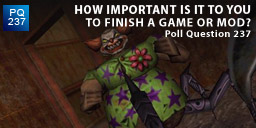 This week's question comes from Jason Gimba, who feels he has wasted his time if he doesn't finish a game.
I can see his point of view but the phrase "So many women, so little time" seems apt here.
If after the first chapter of a book, first few episodes of a TV show, first few levels of a game aren't interesting I won't continue. There are too many other great things to do to waste them on not so great things.
Sure, I could be missing out of some wonderful stuff later on, but I don't see why I should have to play through crap to get to it.
That's said, I do feel a strong need to finish a mod if I have to post it on the site. I feel that's a different kind of responsibility.
My opinion is probably an extreme, but what about you?
The Poll