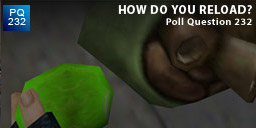 Sometimes the little techniques you use to play can make big difference. Too often I don't manage my ammo very well and I regularly find myself staring into the eyes of some army grunt and running out of ammo!
It's something I need to do better. In fact, to be honest I am not sure what happens if I reload my weapon when my ammo hasn't fully run out – do I lose what was in the clip or not?
Anyway, are you clear headed enough to pay attention to these details?
How do you reload?
Thanks to GeneralVivi for suggesting this question.
The Poll