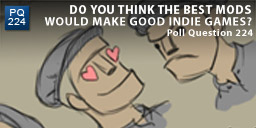 So, I was chatting with Au Heppa, one of the makers of Water (which is currently being tested by the BTC) about modding and indie games. It has become clear that a lot of mods have considered converting to other engines and therefore turning themselves in to indie games.
On the surface, it has a lot of advantages but just because you can make a great mod does that automatically mean it would make a good indie game. I say no, not as a rule, because I see that a player's expectation is different for a "game" than for a mod, even a "total conversion".
What are your thoughts on the matter?
The Poll