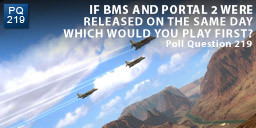 I'll be honest, after seeing those inadvertently released screenshots for BMS, I am less excited than I was. Sure, they may not represent the final product but as people like to say, some things can't be "unseen" and they are in my mind now.
Portal 2 looks beautiful but not being a great Portal lover and being a little worried that some of the puzzles will be quite complicated and demand some jumping/timing skills, I also am worried that my interest will wane.
I suppose that I would play Portal 2, mainly because I will probably wait until hundreds of people have played BMS to find the bugs etc, then I'll play the patched version. Apologies for the pessimism.
The Poll