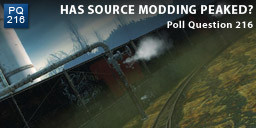 I hate it when two poll questions appear on the site without other posts in between.
A lull in releases is always frustrating but recently things have been pretty bad.
I know I have one or two maps still to post and hundreds to update, but let's be honest we want "new", "big" and "beautiful" and those are few and far between.
There's little doubt that when Portal 2 and Ep3 eventually come out lots of mappers will start projects (90% of which won't be finished) and we will get some great mods and maps but this recent lack of releases has got me, and probably you, wondering about the future of source modding.
Indie games and other engines may have stolen a lot of potential modders from the Source community and it may never fully recover, even if Ep3 is the "dogs bollocks", as we say in the UK.
What do you think?
The Poll