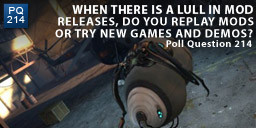 Let's be honest, this year and for a lot of the end of last year, there wasn't much to play, with regard to mods. I've taken the time to work on other projects, but if I were "just" a player I wonder what I would do. When I say just, I mean not having to run websites – no offence meant!
I don't see things getting any better over the next few months, either. Sure, there will be the odd release, but nothing like we had before. At least until a month of so after the release of EP3, then I hope the flood gates will not only open but explode.
So, while things are all quite on the SP Source mod front, what do you do? If you are the fool like me, you probably have a bunch of games you bought in Steam sales or Weekend Madnesses (is there even a plural of madness?), so you don't have any excuses. However, and this might be next week's poll question, do you need to be in the right mood to play new games? Or do you just have a select collection of mods, that you replay time and time again.
I have some Steam friends that I often see in the same mods, so I know some players do it.
What about you?
The Poll