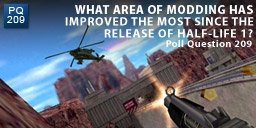 I admit that this is a pretty tough question to choices one area from but I am unable to allow a few chooses.
When I first thought of this question I had been thinking of mod music for a particular idea I am working on and it made me realize that some mod music is absolutely fantastic.
So good in fact, that music will be my choice for this poll.
That said, all areas have improved and I suppose only the really technical readers would be able to have more than a simple overview of each of those improvements.
Even though choosing one area is hard, I hope that the discussion will prove more interesting than the actual vote result.
Please getting commenting!
The Poll