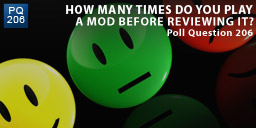 This is the first in a shorts series of polls about how we review maps and mods.
Most of you know that I almost never replay maps and mods and I got to wondering about how that affected my reviews.
Would I review the mods better or differently if I played them twice or three times before reviewing them?
I've no doubt that I would notice more the second time around and would probably play differently the second time around too, but would it make my review more useful?
Would "seeing more" change how I thought about a mod? Possibly, but isn't the first play through the one with the most influence on how I feel? Wouldn't a second playthrough only re-enforce my initial feeling?
What do you think?
The Poll