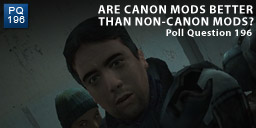 I was thinking about what Jasper said about Barney dying in Strider Mountain and the whole "canon" thing.
One of the great things about mods is that they are not limited by some of the constraints that games are. Modder can go crazy and let their imagination run wild.
However, just because they can doesn't mean they should. At least not in my eyes. Having a story or setting within canon can help define the mod and not let it go stylistically crazy. A fictional universe is a balanced entity and adding new elements is like buying a painting and adding stuff yourself. What the original author made was probably very good in the first place otherwise you wouldn't have bought it – so adding new stuff just might ruin it.
The HL universe is well-balanced but still leaves lots of room for invention and imagination. The key is making very sure the new elements feel right.
Killing key characters seems wrong to me but only for serious mods. Anything that is just a map can do whatever it likes in my opinion because it's not telling a story. And here is the crux – if the mod tells a story within the HL universe is should mess with the basic elements or characters. if it does I lose immersion and that's a bad thing.
What do you think?
The Poll