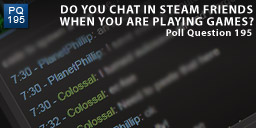 As I was seating on the sofa at 7:20am this morning, laptop on my lap and TV on with Formula One on, I logged into Stem Friends and started to go through my emails.
To my surprise I was messaged by somebody who was in-game. I'm happy to talk to anybody at any time but I have to admit that when people interrupt me when I am playing it's a little annoying.
Of course, if it's really important and they have to leave, then that's cool. It doesn't happen to often and I don't think I have ever interrupted anybody when they are playing, although I do interrupt if they are in an SDK.
Perhaps what is more surprising is when people message me when they are playing. When I'm playing the idea of stopping for a few moments and then continuing kills the immersion and atmosphere for you.
Perhaps it's because I'm old and just not used to it, what about you?
The Poll