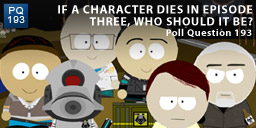 It's easy to pick your least favourite character but think about story development. if there ever is another Half-Life game after Episode Three, who would be missed the least?
Personally, I say kill them all except Gordon and start a whole new story arc. Maybe, have the Earth explode as the game is finishing but him landing on a Combine planet and let him free them too. Okay, just joking but something new is definitely needed.
Maybe the question should have been "who would you least like to die?".
The Poll