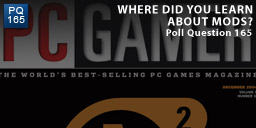 This is a really important question because I believe there are thousands of players who have never heard of mods and contacting them is very difficult.
Most of the newer players will have heard of them, probably through there friends or school mates, but what about older players, who just walk into a store and buy the game.
For me this is important because if we know where people find mods, we can focus on the other areas to try and introduce more.
I'm pretty sure I learned of mods via a printed magazine. In fact, I played Unreal Tournament from a demo on a magazine and learned that there were lots of maps available. That was the beginning of everything for me.
What about you?
The Poll