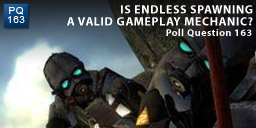 You don't see it too often but when you do it can be as frustrating as hell – endless streams of enemies, poring out of some entrance with an almost demon passion.
On the surface I would say that there is never any place for this game mechanic in a normal map or mod, but there are times when a designer may want to challenge your preconception that you are invincible.
I think it's important for larger mods to occasionally have a section where a player can't win and must make a decision to move on. The problem is that most players don't want to "move on" and therefore view these types of situations as badly designed areas.
It's important that the player be told "There may be areas that are too well protected, so ignore those!". If they aren't told the "invincibility" mentality kicks in and anything except success is met with criticism of the map or modder.
We don't complain when we can't jump 50 feet into the air, so why do we complain when we can't win. Because we have yet to play a game that somebody can't beat.
Think back to Space Invaders. The mentality was very different. We knew we couldn't win because essentially there was no end. The invaders just kept coming, faster and faster, lower and lower. Of course gaming has come on a long way since then but shouldn't we occasionally challenge the assumptions of the player? If for no other reason than to shock them into new thinking patterns.
Thanks to Jasper for this week's Poll Question.
The Poll