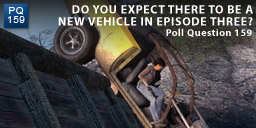 I'm not really a big fan of vehicles in games, but I fully appreciate how they break up gameplay, allow players the opportunity to cover large distances etc.
Each vehicle in the Half-Life series has had the environment matched to it. Whilst that might sound obvious it doesn't always seem to work that way in mods or even in games.
Assuming we are going to be playing in ice and snow there seem to be a number of possibility; snowmobile being the most obvious.
This week's (late – sorry about that!) question is quite straight forward:
Do you expect there to be a new vehicle in Ep3?
If you do, what kind of vehicle would you like to see?
The Poll