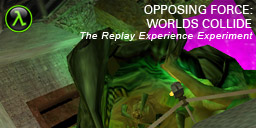 After making his way through warehouses filled with Race X creatures and Black Ops fighting, Adrian Shephard arrives at an old industrial area of Black Mesa where an enormous Gene Worm is attempting to come through a portal from the Race X homeworld.
Shephard uses mounted laser weapons to blind and kill it; in its death throes, an enormous teleportation portal spreads outwards and envelops him.
Conclusion
Shephard regains consciousness inside a V-22 Osprey, confronted by the mysterious G-Man. As the G-Man talks to Shephard a white flash occurs in the distance, indicating that Black Mesa has been destroyed by the nuclear warhead.
The G-Man then informs Shephard that he will be detained "in a place where you can do no possible harm, and where no harm can come to you." He explains this is done since Shephard reminds him of himself, but is still a dangerous witness. The G-Man walks into a portal, Shephard is detained and the end credits roll.
Trivia
Easter egg: If the player uses a console command to view the skybox from within the V-22 Osprey during the G-Man sequence, there is a hidden message on the upper skybox texture. The message reads: "HACK HACK HACK ALL DAY LONG. HACK HACK HACK WHILE I SING THIS SONG [sic]." This poem is a reference to Adam Sandler's song, The Beating of a High School Janitor. This can also be found by viewing the game files. It probably references to the fact that the developer used hack to make the skybox look like it was changed by rotating the camera while not changing the textures themselves.
The Poll
Challenges
Get inside the airlock below the wind shaft.
Catch a glimpse of the Geneworm on Xen.
Saves
Screenshots
Click on the thumbnails below to open a 1024 pixel wide image.
WARNING: The screenshots contain spoilers.
The Replay Experience Experiment
This post is part of the The Replay Experience Experiment 2012 event. This is a chance to replay all the Half-Life games and discuss them based on our experiences since we first played them.
Hat Tip
The trivia text taken from the CombineOverWiki, a fan-supported, editable wiki covering the Half-Life series of games.
Walkthrough
On the left is a complete text walkthrough for Half-Life: Opposing Force.

It has been written by Stanley E. Dunigan and updated with all the tricks and tips from PlanetPhillip.Com readers.

It is in PDF format, meaning you can open it directly in modern browsers or download it and print it.

(Left-click to open and right-click to save)
Do Not Own This Game?
You can purchase Half-Life: Opposing Force directly through Steam and could be playing in within moments, depending on your internet connection.