Update: MapTap has been replaced by Gauge.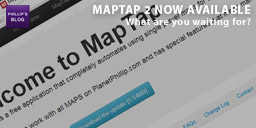 I am pleased to announce that the next version of MapTap is now available.
It has the following new features:
A built in browser, allowing you find files and use them directly within the app.
Support of most Half-Life 1 maps. Some may not work, but most should
A "favourite" feature, to allow you to favourite maps, making them easier to find
An "Open the folder" feature, making it easy to view any ReadMe or screenshots
There's a few other little things, but those are the ones that count.
MapTap users should have already been asked to update and if you had trouble, sorry about that, should all work perfectly now. If not, doesn't hesitate to contact me.
In addition, there's a new website and URL. The old one will disappear soon. MapTap is now linked to in the very top header and the menu a bit lower down.
Lastly, we still have another 5 or so cool features which we will be adding over time – that said, we'd love to hear your ideas for features.
As always, I would like to thank Alex for creting the application and his time, effort and patience while working with me – I can be pretty demanding some times!
Enjoy!