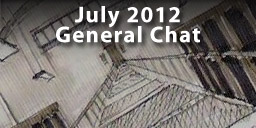 So, what's this post all about?
Well, there's no where for readers to just "chew the fat" ("rag" if you are American), "shoot the breeze" or "Hurl the headcrab" (yes, I just made that up).
No where for them to chat about general topics.
I've had a forum, which I removed, I've tried sidebar chat systems but never been happy with any solution.
I thought I would try a regular post. Each month, I'll create a new one, so it doesn't become to large.
In the comments of this post, you can talk about anything you want, although I'd prefer to stick to gaming.
It's probably best if we avoided sex, politics, religion and cheese.
All comments are retroactively moderated. It's more or less a family site, so please bear that in mind.
You don't even need to be a registered member to comment on this, or any other post!
Also remember, that every comment with a link has to be approved by me, please don't try to bypass that control.
I'll get us started every month with a topic, but don't expect me to keep the conversation going – that's up to all the readers. And don't think it has to stay on that topic either – pretty much anything goes. We can even have multiple topics being discussed.
This month's image is some concept art from Half-Life.