I am pleased to say that this fan fiction event seems to have been a success.
7 reports were received, each with a differing style and tone.
The link to the PDf is below, along with a poll for you to vote for your 3 favourite entries.
Thanks to all who entered. There will be another fan fiction event in May.
Read the Reports.
Left-clicking the link below will open the PDF report in your modern browser. Right-click, to have the option of saving it to your computer. It's approximately 184KB.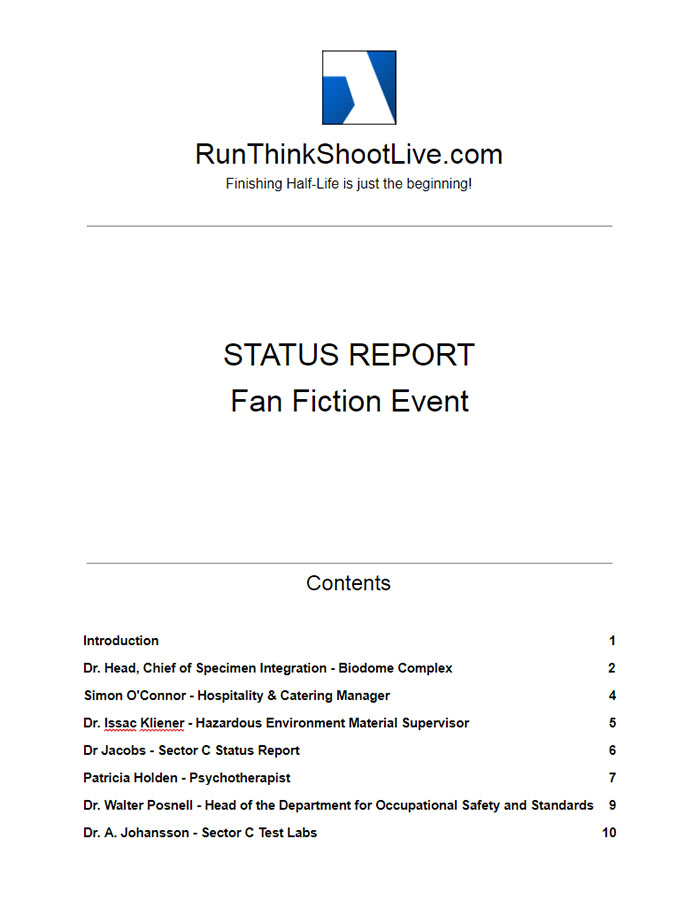 Prizes
I don't normally offer prizes for fan fiction events, but this time there will be 2 random Steam games on offer: one for the my favourite entry and one randomly selected entry. This means that just by entering you have a chance to win a game.
Phillip's Favourite
I've yet to read all the entries and will post my winner this week.
Readers' Favourite
The poll closes on 10th April.
Select your 3 favourite reports.

Which are your 3 favourite Status Reports?
Dr. A. Johansson - Sector C Test Labs (22%, 11 Votes)
Dr. Walter Posnell - Head of the Department for Occupational Safety and Standards (16%, 8 Votes)
Ken Kurtulik - Director, Advanced Biological Research Labs (4%, 2 Votes)
Patricia Holden - Psychotherapist (18%, 9 Votes)
Dr Jacobs - Sector C Status Report (4%, 2 Votes)
Dr. Issac Kliener - Hazardous Environment Material Supervisor (2%, 1 Votes)
Simon O'Connor - Hospitality & Catering Manager (14%, 7 Votes)
Dr. Head, Chief of Specimen Integration - Biodome Complex (18%, 9 Votes)
Total Voters: 19

Loading ...
ORIGINAL POST BELOW
This has to be one of the most quoted lines from the original Half-Life. Just a quick line that somehow makes the place feel real. The same as the complaint about the ties.
For this fan fiction event, I would like you to write a status report for a real (seen in Half-Life) or fictional department.
Your report must be no more than 600 words.
It can be serious – adding lore to the Half-Life universe.
It can be funny – making fun of existing or new characters.
It can be scientific – using real world knowledge.
It can be hypothetical – create your own physics!
It can be a combination of the above, it's up to you.
Entry Deadline
Please send your entry, via email, either as a txt attachment or even written in the email itself, to run[email protected], not later than 11:59pm GMT Saturday 31st march 2018.
Rules
All entries must be safe for work.
All entries MUST be in English (sorry).
Authors may enter as many reports as they wish.
Phillip's decision is final regarding winners.
No purchase necessary.
Other weird rules may be added later.
Quick British Versus American Grammar Note
As many of you may have noticed, I changed the original quote which was "Did you submit your status report to the administrator today?". For British people, TODAY is considered unfinished time and feels more natural to use the Present Perfect tenses. Also "did" would be used with past time clauses like "yesterday". I hope my change doesn't create any internal creative conflict, hereby known as ICC.
American and British English entries are both welcome.
Other Fan Fiction Events
I would like to encourage ALL readers to take a look at the previous Fan Fiction Events. There are some great entries in there.