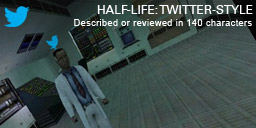 How would you describe or review Half-Life via Twitter?
Well, here's my attempt at a description.
I'll try and write a review version too.
Tram ride to gem push. Shit hits fan. Get help. Alien & grunts block you. BM is huge. Lab guys help. Xen awaits. Kill big baby. Job offer.
With 1 character to spare!
Please submit your own.
Rules
Must use capital letters at the beginning of a sentence. Sentences must end with a full stop/period. One space between sentences. Maximum of 140 characters. Proper spelling of words. Contractions allowed.
Inspiration
I saw this about a comedian who is going to condense each James Bond novel into a tweet and thought the idea was perfect to steal for Half-Life games.
Funnily enough, I had forgotten about it until I saw 2muchvideogames's journal that did something similar with chapters from Opposing Force.
After I read that I decided to create this post. I have even created a new category for it, called Twitter Style and will probably add other games once I finish the Half-Life series.
Next week, I'll post Opposing Force.
Remember, this post is ONLY for Half-Life 1. All reviews or descriptions for other games will be deleted.