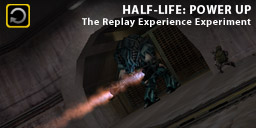 Trying to reach the surface once more, Gordon's progress is thwarted by a clash between a Gargantua and HECU soldiers in the Sector E Materials Transport.
He then learns from a dying security guard that if he restores the generator, he can ride the monorail to the surface. Freeman enters the Houndeye-infested subterranean areas and activates the generator, restoring power to the vicinity.
After activating more switches, he destroys the Gargantua patrolling the area by turning on the huge transformers supplying power to the tram line.
Hitching a ride, he smashes through a barricade of concrete blocks before continuing on his way.
Trivia
The old level name featured on Half-Life: Day One, given in the "titles.txt" file was: Footfall.
If the player attacks the dying security guard, he'll say the lines that the others do when attacked, but stay lying down.
The entire level can be skipped by proceeding to the railway barricade, then using tripmines as steps to climb over the barricade.
The Poll
Challenges
The challenges below have been set by 2muchvideogames
Get an alien slave to kill itself.
Kill a grunt with a burst flame pipe.
Kill a headcrab using the generator.
Take out the two soldiers on the lift with their own tripmines.
Screenshots
Click on the thumbnails below to open a 1024 pixel wide image.
WARNING: The screenshots contain spoilers.
The Replay Experience Experiment
This post is part of the The Replay Experience Experiment 2012 event. This is a chance to replay all the Half-Life games and discuss them based on our experiences since we first played them.
Hat Tip
All text taken from the CombineOverWiki, a fan-supported, editable wiki covering the Half-Life series of games.
A Complete Half-Life Walkthrough
On the left is a complete text walkthrough for Half-Life.

It has been written by Stanley E. Dunigan and updated with all the tricks and tips from PlanetPhillip.Com readers.

It is in PDF format, meaning you can open it directly in modern browsers or download it and print it.

(Left-click to open and right-click to save)
Do Not Own This Game?
You can purchase Half-Life directly through Steam and could be playing in within moments, depending on your internet connection.