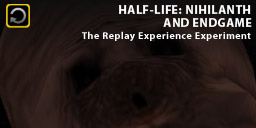 In a vast cave, Gordon finally confronts the powerful and mysterious being that is holding the portal open. Gordon destroys the Nihilanth's shield, allowing him to destroy its vulnerable brain. As the creature dies, it floats toward the ceiling, and explodes in a giant green blast that overpowers Gordon's senses.
"It's time to choose!"
– The G-Man
When Gordon comes to, he is confronted by the G-Man. Both are transported to various locales around Xen, while the G-Man praises Gordon's actions in the borderworld (which he refers to as "a nasty piece of work"). He explains that his "employers", agreeing that Gordon has "limitless potential", have authorized him to offer Freeman a job. The final teleportation takes Gordon to the same tramcar that he rode on at the beginning of the game, but apparently flying through space at immense speed. Gordon accepts this offer by stepping though a portal, and, finding himself floating in nothingness, hears the G-Man's voice one last time: "Wisely done, Mr. Freeman, I will see you up ahead…" The story continues from this point in Half-Life 2.
Alternatively, the player may choose not to step into the portal in the final scene. This causes Gordon to be teleported into a giant cave facing rows of Alien Grunts and Manta Rays as the game ends with the G-Man's comment, "Well, it looks like we won't be working together. No regrets, Mr. Freeman." Gordon's appearance in Half-Life 2 suggests that this ending is non-canonical. Following this scene is a status report saying, "Subject: Freeman; Status: Observation terminated; Post Mortem: Subject declined offer of employment."
Trivia
The chapter name "Endgame" is given in the "titles.txt" file and in Half-Life save and load dialogs.
The rows of Alien Grunts in the non-canon ("bad") ending are not all spawned NPCs. The rear rows of Alien Grunts are actually rendered as sprites
The Poll
Challenges
The challenges below have been set by 2muchvideogames
Hidden surviving scientist!? (Thanks, Dr. Amazing)
Finish off Nihilanth with the crowbar.
Saves
MEDIUM: 100 Health 100HEV [24KB]
HARD: 100 Health 100HEV [24KB]
Screenshots
Click on the thumbnails below to open a 1024 pixel wide image.
WARNING: The screenshots contain spoilers.
The Replay Experience Experiment
This post is part of the The Replay Experience Experiment 2012 event. This is a chance to replay all the Half-Life games and discuss them based on our experiences since we first played them.
Hat Tip
All text taken from the CombineOverWiki, a fan-supported, editable wiki covering the Half-Life series of games.
A Complete Half-Life Walkthrough
On the left is a complete text walkthrough for Half-Life.

It has been written by Stanley E. Dunigan and updated with all the tricks and tips from PlanetPhillip.Com readers.

It is in PDF format, meaning you can open it directly in modern browsers or download it and print it.

(Left-click to open and right-click to save)
Do Not Own This Game?
You can purchase Half-Life directly through Steam and could be playing in within moments, depending on your internet connection.