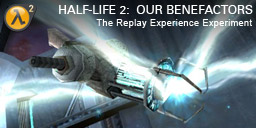 This chapter details Gordon Freeman's infiltration in the Combine Citadel.
It is also a playground for the newly charged Gravity Gun, having many Combine Soldiers and Elites to kill.
After making his way into the Citadel, through use of a 'Stalker pod,' Gordon is caught in a Combine weapon confiscation field.
This destroys most of Gordon's weapons, except for the Gravity Gun, which causes the field to malfunction and 'overcharge' the Gravity Gun.
The Gravity Gun becomes infused with dark energy, making it much more powerful, capable of picking up and throwing organic beings. Making use of the overcharged gravity gun, Gordon fights his way through the Citadel against large numbers of Combine soldier, as Dr. Breen tries, increasingly desperately, to convince Gordon to surrender.
Gordon is forced to enter another Stalker pod, and is quickly discovered by camera and transferred to the top of the Citadel to Breen's office.
Trivia
The City 17 as seen from the Citadel is a satellite image of night time Brooklyn, NY.
Achievements

Screenshots
Click on the thumbnails below to open a 1024 pixel wide image.
WARNING: The screenshots contain spoilers.
The Replay Experience Experiment
This post is part of the The Replay Experience Experiment event. This is a chance to replay all the Half-Life games and discuss them based on our experiences since we first played them.
Hat Tip
The intro and trivia text are taken from the CombineOverWiki, a fan-supported, editable wiki covering the Half-Life series of games.
Walkthrough
On the left is a complete text walkthrough for Half-Life 2.

It has been written by Stanley E. Dunigan and updated with all the tricks and tips from PlanetPhillip.Com readers.

It is in PDF format, meaning you can open it directly in modern browsers or download it and print it.

(Left-click to open and right-click to save)
Do Not Own This Game?
You can purchase Half-Life 2 directly through Steam and could be playing in within moments, depending on your internet connection.