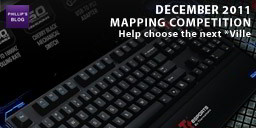 It's time to think about the next mapping competition.
This time, SteamContests has organized the sponsorship of Tt eSPORTS!
They will be supplying the MEKA G1 keyboard as the first prize and the Black Element gaming mouse as the second prize.
Those are IN ADDITION to any prize I give AND there may be some other smaller prizes too.
So, with all that in mind, it's time to select the next theme.
Before I discuss the possible choices, I need to make it clear that I will be making the final decision and the vote below is for my information only.
90% of voters will be players and what players want to play is not necessarily what mappers want to make.
The details below are just guidelines and once a theme has been chosen, a proper project website will be created with all the details.
SurpriseVille
The purpose of this theme is to create a map that somehow surprises the player. of course, there must be combat in it, but it's all about the surprise.
AmbushVille
Create a map where the player is ambushed. Yes, it's very obvious but it's never what you do, but how you do it.
CrossbowVille
I love the crossbow and wish there were more maps that used it. I want long distance combat that requires skill and timing. Of course, a little in-your-face fun is always welcome.
SuicideVille
Create a map where the player is on a suicide mission.
OneEnemyVille
Create a map where there is only one enemy. There could be headcrabs, antlions and other non-intelligent enemies, but this is all about finding and killing one humanoid enemy. They may not even be able to fight back.
BossVille
Create a map which is essentially a Boss map. A little lead in is needed, but the main part is the Boss.
I am sure you have your own ideas, so please use the "OTHER" option and make sure you comment on what it is, so that other readers can see it too.
Time to Vote
More details can be found on their Facebook page.