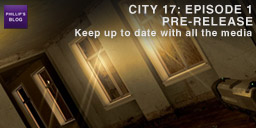 City 17 Episode 1 is a mod that is slowly evolving into something that will amaze and surprise you.
I only cover a few In Development mods and am pleased that Gear, the team behind the mod, have agreed to work closely with me.
I have some media and an audio interview for you, so read on and enjoy!
Contents
Overview
A mod spanning across the entire Half-Life universe. You take on the role of Jack, a rebel who along with his friend were assigned on a mission in City 17. The goal of this project was to give a different perspective on the war, as perceived through the eyes of a rebel, running in parallel with Gordon's progress along the main Half-Life story. The mod is planned to be spread into three episodes, touching on the events from all of the Half-Life 2 episodes.
"So far, my goal is getting as many citizens out of the city and in to safety as possible. Yet we've been running into constant Combine reinforcements, Striders everywhere, and more zombies than I can count. Only two of us were assigned this mission and hopefully we can accomplish it. If we don't then we're all dead. Right now I'm in a lone room, Striders roaming outside and closing in but I'll make it out of here; just have to fight them off…"
Media Update: Action Panoramic 11 December 2009
Please Note: Panoramic images only are available in full screen mode. You can either open one by click the image link above or by saving it to your computer and then opening it.
How to use: Once the image is open and your cursor is on the image, press and hold your left mouse button and move around the image. Use your mouse wheel to scroll in and out of the panoramic image.
Media Update: Screenshots 10 December 2009
Media Update: Music 09 December 2009
Today I present 3 tracks from the mod. Each image links to a compressed folder containing all three. Copyright applies to each track.
Screenshots 08 December 2009
Audio Interview 07 December 2009
I was lucky enough to get the Gear team online and chatted with them. We talk about the mod, its evolution, Maxsi Distribution System and a whole lot more.
It's only available as a download so that it doesn't crash my server – Sorry Stream lovers.
Audio Interview with the Gear team about City17: Episode 1. It is 35Mb compressed file with a 41Mb MP3 inside.
Beta Preview May 2008
In May 2008, I got to play a beta preview version.
Now, as with all betas, there are a few areas that need improvement but the version I played is the latest version and also about 80% finished. With this amount finished it's clear to see where the developers are aiming for in terms of quality and gameplay style and also to see whether there are close to achieving that.
I just want to say one thing before I continue…This is without doubt one of the best mods I have ever played, even in its unfinished state. I stopped because I was enjoying it so much. I hate playing mods twice and decided that as much as I wanted to continue I shouldn't because then I would have trouble playing the finished version.
Now, regular readers should know that I NEVER replay mods, never. It's not because I hated them, it's because I just don't enjoy doing it. Therefore please understand that stopping playing the mod is a compliment, not an insult. If I wasn't loving playing I would have simply finished and saved myself the trouble of playing it when it is finally released.
The start is both dramatic and challenging which is nice to see instead of the usual simple room fade in. All the environments are very detailed both architecturally and gameplay wise. In fact the style of levels I played are exactly the types of levels I enjoy.
There was no custom voice acting included in the beta I played but I am told this will be added soon Other new elements will including a new HUD and some animation I believe.
I really wanted to include some panoramic shots and perhaps even a short movie of the gameplay but I don't want to give too much away.
You find yourself in the ruins of City 17, obviously, and this provides plenty of cover but also some unexpected surprises regarding the location of the Combine. The lighting is almost perfect with areas neither too bright nor too dark.
I only encountered one puzzle but it fit perfectly with the setting and rather than seeming like an after thought, as so many puzzles are, it was a natural inclusion.
Gameplay was balance between frantic and controlled, and I never felt it was too easy or too hard. A couple of times the enemy just looked at me but to be honest I quite enjoy walking up to them and sending them to a heaven of their choice.
At each level change I kept saying, "Okay, stop now before you spoil it for yourself" and each time I replied "Just a bit more".
Once this is released (And before you ask, no I don't know exactly when it will be released) players will be in for a very pleasant surprise. (Well maybe not now that I have told you how good it is!) Mods like this come along once or twice a year and with Strider Mountain and Combine Destiny 2 due soon we could be in for a great early summer.
The only decision you'll have to make is which to play first!
Back to top
Beta Preview Screenshots May 2008
January 2008 Media Update