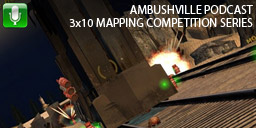 In this podcast I talk to Mark Allen, Justin Carlton and Darren Weekes about their entries to the AmbushVille mod, their approach to building a map in such a short time and other mapping topics.
If you have any specific questions , please post them as comments and I or the guest will respond.
Important Note
Please accept my apologies, it seems that the sound between myself and the guests is out of sync.
I didn't check carefully enough when I created the MP3, but the source is exactly the same.
I had to find a quick and dirty solution to record this podcast as the old PC I had to set up didn't allow Pamela to work correctly.
If I haven't bought a new PC or had my laptop repaired by the time of the next competition podcast is recorded, I will split the recording into 2 or three segments and that should avoid this issue.
Listen to the podcast
Loading…
Download This Podcast
Right-click to Download to your HDD [51MB / 56 minutes]
The 3×10 Mapping Competition Series
AmbushVille is a mod released as part of The 3×10 Mapping Competition Series.