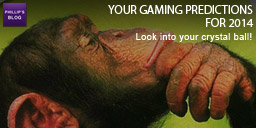 I've been more focused on my Squash Sites recently, and for that I apologize.
In the past, around this time I make some predictions, some of which have been accurate (Source Console in 2007!) and some not so accurate (A.I. Cards).
I'll be honest, I haven't thought much about what I what from gaming next year. I'll be happy just to get a new system and start playing mods and games again.
Hopefully, MapTap will make a comeback (new beta coming later this week) and the site will get a beautiful new design (fingers crossed) and of course Half-Life 3 will be released!
But this post is all about YOU.
What are YOUR gaming predictions for 2014?
Don't be shy. Don't be conservative. Let your imagination run wild!
I want to read the comments and say "DOH! Why didn't I think of that!"