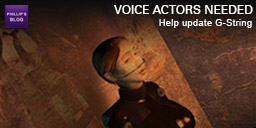 MyoHyo, the author of the amazing G-String mod, is looking for voice actors to help with the update.
If you have never heard of this mod, it's a total conversion that takes you to a dystopian future. It's an incredible piece of work and deserves a wider audience. Released in 2011, many people found it difficult to play and MyoHyo decided to update it.
She is looking for voice actors, but would like older people to apply. There are a few parts available, listed below, and I would very much like the PP community to help her.
This is the perfect chance for you to try something new. All you need is a fairly good quality mic and a quiet, echo-less area, plus the ability to express yourself just with your voice.
Even if you have never done voice acting before, don't let that stop you trying it.
She will need someone who can do quite a few announcements for the floating advertisement boats. "Relocate to space, you can marry your robot companion now", etc, that type of thing. Like a happy go lucky sales person.
Then there is
Joseph Bortz the old scientist with eastern European accent,
The Admiral of the NATO star-fleet, with a scary voice of sorts id imagine, Vader-ish,
Then there is Ted Murdock the obese rich air tycoon, the wealthiest man alive, kind of a jabba-esque voice for him,
Then there may be someone needed to voice a spaceship pilot but I she is not sure about this yet.
So these are kind of bigger roles (5 to 10 lines) and there are a few one liner parts also for people who have less time…
If you are interested, please email me and I will pass on your details.
I'm already in the mod as a kind of Father Grigori prophet.
If you have any questions, please don't hesitate to ask and I'll reply ASAP or get an answer from MyoHyo quickly too.