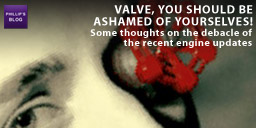 Lord has recently released his unfinished sequel called Eye of the Storm 2. He released it unfinished because he became frustrated with Source tools constant crashes and problems. Personally, I don't blame him because any work you do in your spare time for others should be enjoyable.
There have been some comments on that mod about his decision and the situation in general and whilst I posted some about Get Mods Working I hadn't addressed the issues directly.
To my knowledge, Valve has neither acknowledged nor openly discussed the Source update that broke a lot of mods. To me this is shameful. Valve was created by executives but built by modders. If I understand the origin and history of Valve correctly, they took modders from the Quake community and hired them to build Half-Life.
Valve do a lot of fantastic things but in this case they seem to have let the community down and perhaps as importantly let themselves down.
It really doesn't matter if the engine update is the most important project in Valve right now. Whether they have taken on new staff, have allocated man hours or finances to fix the issue. What matters is that they have said nothing about it.
I'm not even expecting them to fix it, but I'll come on to that, all I expect (yes, I actually EXPECT this) is that they acknowledge the issue and apologize. I don't care if it was on purpose or an accident. I don't even care if it is part of a long term plan that outweighs the current situation.
I WANT AN APOLOGY
THE COMMUNITY DESERVES AN APOLOGY
I challenge any authorized Valve employee to stand up and be a man. Are you reading this Gabe?
When that hacker stole your Half-Life 2 source code, which was completely YOUR fault, WE, the community helped YOU. The least you could do is let us know what's happening.
Of course, I also believe that they should fix the issue too but in some way I am less worried about that. Shit Happens. I accept that. That don't have to fix free software but of course their success is built on the use of that software. Geez, it can't be impossible to fix, can it?
As you probably know I have no interest in multiplayer mods, so I have no idea if any or how many MP mods were affected by the update but I feel confident that if nearly every MP had stopped working like SP mods the community would have gone crazy. In fact, that makes me wonder what the percentage of play time for Source SP games, Source SP mods, Source MP games and Source MP mods is.
Do we doubt that the SP mods would be at the bottom? I don't, although I could be wrong. What I am trying to get at is that the play time of both MP and SP mods must be pretty significant compared to the games. If they completely break a game they fix it pretty damn quick, but not so with mods it seems.
Lord is one example of a modder who has given up and I am sure there are others. Most probably just stop using Source tools and move onto other games and engines. I suppose it depends on how far you are along with development. Some mods are just too far along for the modders to think of stopping or switching engines. Better to persevere and hope that Valve fixes things.
Potential modders are possibly the biggest loss. Why start to learn something when it's broken. In fact, with the Unreal Development Kit available why bother with Source at all? I am only interested because I want to tell stories from within the HL universe, but I know most modders don't give a hreadcrab's fart about stuff like that.
They want a stable, easy to use and popular engine. If other retail developers can supply that then great. That's where they will go.
The PP community is made up of more players than developers but we need each other. Players can't play if modders don't make anything and modders won't make something that won't be played.
Eventually Valve will release something or the next engine will allow the goldfish modders to move on, but this whole incident leaves a sour taste in my mouth, that ultimately makes we wonder if Valve really do care for the community any more.