Update: MapTap has been replaced by Gauge.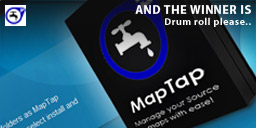 I officially launched MapTap on 1st October 2011. It is designed to make using SP maps a LOT easier.
I's been fairly successful but I feel I should have done more work before the launch to ensure that enough tested files were available.
Herr_Alien and I have been working very hard behind the scenes and the next update will be a big step forward. We have about 5 new features planned for future updates too.
Back on the first of the month, I said there would be a game giveaway to one random Map Tap user.
The Winner is Bradley Garlick
Thanks to everybody who has downloaded and used the application.
If you have any questions, please post them as a comment here.
Here are the games Bradley won: