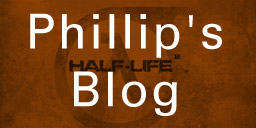 Introduction
I was thinking about how we judge and quantify maps and mods when Mel beat me to the punch with his forum post and I have been thinking about it a little more. One of the reasons I believe the new tag system is much better than any rating system is because it removes subjectivity and attempts to replace it with objectivity. If fact it does more than that because it replaces judgements with better defined descriptions.
Subjectivity
I know that I am in the minority regarding Minvera: Metastasis. Most players think this is the best Half-Life 2 mod released, and the Hall of Fame page seems to bear this out. The problem is that whilst I accept it is a masterpiece, beautifully made, as good as any Valve-released level it did not excite me in the same way some other mods have.
I remember talking with somebody about a book. She said it was beautifully written but boring. At the time I believed it was a contradiction. I thought "If it is beautifully written then it can't be boring." A few years later I bought the book and found she was right. It was beautifully written and it was boring and I stopped reading after I finished chapter 3. Strangely the movie was also beautiful but quite boring too!
Now, I am not saying that Minerva was boring because it wasn't but from a purely gameplay perspective I have found many other mods more to my liking.
Clearly I want something else from my gaming experience. My view is neither more nor less valid than another's. The point is that by trying to rank and rate mods we are creating a general consensus, which is very useful and valid most of the time but we shouldn't take it too seriously. There are perhaps better ways to find what we want.
Time For Objectivity?
As a society we are obsessed with the Fastest, Longest, Highest etc. These superlatives are generally easy to define but other adjectives are less so. Sure, it's great fun to discuss whether Ali or Tyson would win (I think Tyson at his best would have won) but as a webmaster I want something better to help people find what they are looking for and this is exactly why the TAGS are so useful.
Tags describe a map or mod by its content. A list of locations, vehicles, enemies or weapons is a simple fact. Their simple inclusion doesn't mean a player will be guaranteed to enjoy a mod but at least he knows what he is getting.
Other TAGS can be less fact based but hopefully better than a simple score out of 5. The key is to ensure that the definition of the TAGS is very clear and also there are enough TAGS for 95% of mods.
That's why I am looking for trusted TAGGERS. Accepting TAGS from readers is very useful and helpful but you only need to visit a site that has an open tags system to realize that what people tag something with may make no sense to others.
Ultimately I would like to limit what TAGS a reader can add to a map or mod with some sort of dropdown list. I can then have a system for readers to suggest TAGS.
What About Preconceptions?
Last year I played a couple of mods that were both Unfinished. One was included as part of a larger project but easily overlooked, the other was released with little publicity. Both of them turned out to be my favourite mods of the year, and I should mentioned they were relatively short, less than 30 minutes each.
I duly posted them on my site along with a brief review and my recommendation, which obviously was Play It Now!. A few other readers played a rated them in a similar fashion.
However, after the first 20 or so comments I noticed the recommendations becoming lower. Now there's no scientific basis for me assuming what I did and it could have been luck but I truly believe that as other readers started seeing so many Play It Now! images their expectations of the mod increased to a point where such a short and intense mod could match those expectations. They then started to receive lower recommendations.
So, should I try to hide the comments or at least the images until a player has played a map or mod. Of course not, that's not my role but it does raise the question of how important is a player's preconception of a mod and how they rate it afterwards. Sounds like an interesting experiment to me.
Judge It For What It Is
Another thing I have noticed is that certain mods get specific scores simply because of what they are. Three examples are Arenas, Short and Unfinished mods. Arenas are generally rated higher than normal because the players who enjoy these types of mods have a certain mentality and I believe that they often rate them higher than normal because they do one thing but do it very well. Often in these cases it's a love it or hate it mod.
Next are the Unfinished mods. These mods are given lower scores purely because it's unfinished. Now I understand why it is frustrating to play something with perhaps bugs or no ending but if you know this before you play surely your score must reflect that? That's like giving a mod called Underground Tunnels a low score because there were no beach levels in it.
The last type of mod is the short mod. If I have to be honest I prefer mods that I can play in one or two sittings. Nothing more than 3 or 4 hours for me. I don't know why but I get bored. Whilst each level is different perhaps I subconsciously know they have often been built by the same person that I feel it gets too repetitive and recognizable. Maybe it's the same with music. I rarely listen to the same artist for more than one CD at a time. I need a change. Does anybody else have the same feelings?
I know of some reviews who regularly give lower scores to mods purely because they don't have new textures, models or sounds in them. Minerva, to my knowledge, has no new content. Should that be marked lower because of it. Hell No! In fact you could make a case that it should be rated higher because the author used what was available incredibly well.
Rating mods with low scores just because they are short seems unfair. If we take it the other way should we rate very long mods high simply because they are long? Of course not.
Spoilers
I never read a review of any map or mod, in fact of any book or film. I prefer to play, read or view with NO preconceptions about the content. Obviously I nearly always know the size of the thing because when you download and install something it's impossible not to notice. The same for a book and film.
To me these kinds of things are spoilers. But I suppose the same could be said for TAGS.
For me it's more important to describe something that judge it.
If I had more confidence in the use of the tagging system I would seriously consider removing the rating system. The trouble is that I am torn between wanting to do what I think is right and giving PP readers what they want.
What Exactly Am I trying To Say?
To be honest I don't know! I just wanted to vent my thoughts about how we view mods.
Here is a question for you: Is PlanetPhillip.com beautiful but boring?