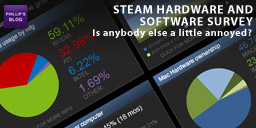 So, for whatever reason, Steam asked me if I wanted to participate in their survey. Being a kind and helpful person by nature I clicked YES.
Answered the few questions it asked about connection speed and microphone and then clicked next. Off it went to collect my system's specs and all was fine until I decided to scroll down through the list to see what I had.
Low and behold there is a huge list of all the software I have installed on this machine. Shouldn't be too much of a shock since it's called the "Hardware and Software Survey". But it just seems a litttle cheeky to me. You could argue that I shouldn't have anything to hide but what do they need to know what other software I have for?
Knowing my OS must be useful and of course all the hardware specs help them build better games, but the rest? I find it hard to believe it is anything other than marketing requirements.
At this point I cancelled the survey, maybe there was an option to remove the software part but I was seeing too much RED to worry about it.
Is anybody else a little annoyed with this?