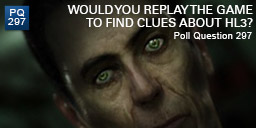 Imagine this for a moment.
Valve release a press release saying something like the following.
A randomly selected 10% of Half-Life 2, Half-Life 2: Episode One and Half-Life 2: Episode TWo have been updated with minor clues related to a forthcoming game announcment.
All the above games get updated but only 10% from each game will contain the clues.
A website has been created to track clues that have been found.
Now, the question is, would you replay the games to find the clues or would you just wait until somebody posted them on the Net?
HL3 is not mentioned but assumed for the sake of this post and poll.
Time to vote