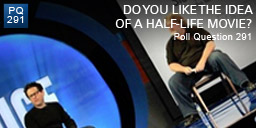 Well, it's been discussed many times before but it finally looks to be happening on a professional scale: A Half-Life (or portal) movie!
I'll probably be the one Half-Life fan to say that I think it's a bad idea and here's why…
You know how a movie is never as good as a book (well almost always never)? I think the same will happen here. Yes, the movie will be fantastic but not if you played Half-Life near when it first came out.
Nothing they could do would recapture that initial tram ride feeling and the sense of wonder.
I'm not against the idea of a movie and I am sure that if Valve support it then it WILL be amazing, but I just feel that I don't want to step over into a new media.
Half-Life for me is about that interactive experience, not just the look and what happens. I have a feeling that if you asked me the same question 5 years ago I would have LOVED the idea, but perhaps I have become more guarded now.
Not everything should be converted to new formats or media. A "7 Hour War" movie sounds much more interesting to me.
What are your thoughts?
Time to vote