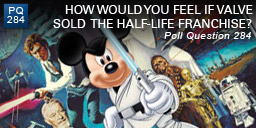 Unless you've been trapped in Xen, then I'm sure you heard the news that Disney has bought the Star Wars franchise from George Lucas.
Some like the idea and others hate it. Perhaps Mr. Lucas added some caveats about IP cross over or some other points related to keeping the SW universe pure etc. I'm not a huge fan of Star Wars but it would be cool to have some new movies to watch.
That of course then got me thinking about Valve selling the Half-Life franchise.
Sure, the chances are very, very slim but it might happen. What if Valve decided that after releasing HL3, they have had enough with it? Why not sell it on and do what they have been doing for a while?
It's not as crazy as it sounds, but admittedly unlikely.
Perhaps it's more likely if they allow other developers to create some expansions/DLC/side games while they concentrate on their newer IPs.
They've done it once (well twice really) and as long as the new content doesn't break canon, then why not.
I'd jump at the chance to make the Seven Hour War game. There are so many possibilities, to tell interesting stories. Sure, we know lost but how is that any different from when we play other games? Unless we stop playing, we know good triumphs over evil and the player is a hero.
I take the same stand as I do with the Disney/Star Wars deal: If I get new content that doesn't completely ruin the IP then I'll give it a chance.
What about you?
Time to Vote