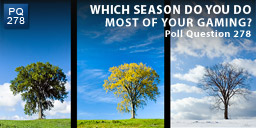 Even though I'm not a student I get a lot of free time in the summer. I suppose I spend more time gaming in the summer than in the winter.
I actually prefer playing in the winter, I've said this before, but I feel less guilty staying inside when it's raining than when it's sunny.
What about you?
Then there is the idea that our emotions change during the seasons and we approach games, books, art etc in different ways at different times of the year.
I have to admit that during the winter I might be more inclined to take my time and explore than in the summer. Is it as simple as wanting to finish a mod so I can get outside and run to the top of a mountain?
Do you notice a difference in your approach to games at various times of the year?
Time to Vote!