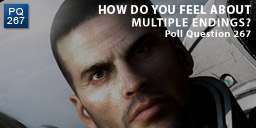 What's all this obsession with multiple endings?
I don't get it. Really, what is the obsession with multiple endings?
I understand that gaming can and probably should offer us something we don't get in real life but this one just doesn't make sense to me.
Perhaps there are special mods that require multiple endings for various reasons, maybe Stanley's Parable is one of those, I don't know, I haven't made time to play it yet.
But for a regular mod I can't see the benefit.
If you think about it for a moment all mods have an infinite number of endings. You could end with not killing any enemies, with killing one, with having 34 or 25 health points left. But that misses the point, doesn't it? When you talk about multiple endings you mean you get to a new area, or see a different cut scene or escape or die or any number of things.
But life isn't like that. In life you get one actual ending of any given situation. No saves, no replays, nothing.
To be able to go back to certain point in a game or mod and replay from there to get a new ending breaks too many rules for me.
Have you ever read a novel with multiple endings? I haven't. Have I liked every ending of every book I have ever read? Hell, no. But that doesn't mean I want to go back and read from a certain point just to get a new one.
Yes, yes, books and games are different. But are they? The author controls everything and so does a game developer or modder. game developers have just a little more freedom to make you feel that you control something.
The reality is that in games and mods, you go exactly where they want you to go but you have a little control over HOW you get there.
Occasionally, I have watched DVDs where they present multiple endings for the film and yes I do check them out. But I don't rewatch the movie and them select a different ending. In those cases it's no different from watching deleted scenes – it's just for interest sake, not because I want to feel in control.
Years ago, I wrote an article about games that can only be played once (can't find the link to it atm), the idea being that in this case multiple ending have a valid place in gaming. A game that you could only play once and one that you knew had multiple ending would mean that your actions have unchangeable consequences.
Choices mean nothing if you can simple go back a few saves and replay.
Imagine a game with no saves – just like arcade games. Each and every playthrough had a sense of importance. Perhaps it was because you paid for each one, or perhaps because there was no going back.
Make a PC game with no saves and players complain, I know I would! Of course, that's different because games today are much longer than in the past. But how about a compromise?
Make a game that only has one constant save.
Shit that would be tough. You can stop the game at any point, but you must continue from there.
I do understand the desire for gamers and developers to create mods where the choices we make actual have important consequences, I am just not convinced that multiple endings are the ideal solution. Not until we have games with tens of ends, at least.
As I was drafting this article, I noticed something on the BBC about Mass Effect 3 and its ending. I sympathise with those players because if Valve screw up the ending of HL3 I would go crazy.
I would prefer that all the effort that went into multiple endings was put into telling a better story to begin with. Just make your ending great and tell the story well and I'll be happy.
So, now it's your turn to comment and/or vote