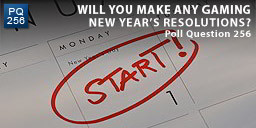 I'm terrible. I make more NYRs than you can imagine.
The inside of my wardrobe door is covered in photos and post it notes.
In fact, as I get older, I get worse or more ambitious, depending on which way you look at it.
And yes, I do achieve some of them!
So, this year, I plan to make some gaming resolutions, not related to the website.
At the risk of jinxing my chances of achieving these resolutions, here they are.
1. Change my keybindings. I am sure they inhibit my ability.
2. Play at least 4 of the unplayed games in my Library.
3. To try at least 1 Art mod per month.
4. To try some indie games during the year.
5. To give L4D/L4D2 a chance.
Your turn. Don't forget to list them!
Time to Vote