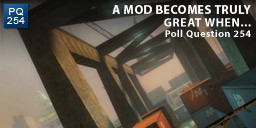 Stole this idea from ModDB (Thanks guys!). Of course, I adapted it slightly for you, but it's the theme that's the same.
There's no doubt that defining a great mod is harder than just picking a few answers in my poll (BTW, you get to choose 3) and it can be hard to even recognize what it was exactly that made you think it was great in the first place. But that doesn't mean we should think about it!
Personally, I am more interested in how something plays than it looks and new stuff is only good if it helps the gameplay. Same for doing something new.
However, when a mod makes you think about life, than that's gotta be a great thing. Don't you think?
The Poll