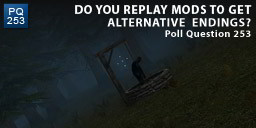 The winning entry for HalloweenVille had an alternative ending.
I kept meaning to go back and replay it, but never did.
I realized that unless the part where the divergence is made very clear, as in The Citizen 2, then I never go back and play it.
To be honest, the end isn't that important to me. Well, of course it is important, but if the story has been told well and I have enjoyed playing the mod, I am cool with getting the regular ending.
It's almost as if the player needs to play every single element of a mod. Do they introduce themselves to everybody in a bar when the enter? I think going back and replaying kind of spoils the effect.
Just as in life, your actions have consequences and those are what you get. We can't do it in life and that makes it more interesting. just because you can do it in mod, doesn't mean you should.
I would like to see a mod with 20 different endings but the way they are reached are so small and subtle that it would be almost impossible for a player to find out what caused the difference. Nothing as obvious as shooting a citizen or not, but more whether you were moving along a corridor and entered door 2 before door 1.
Anyway, back to the question. Do you replay mods to get alternative endings?
The Poll: Get voting!