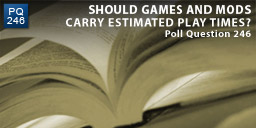 I've been thinking more about the comparisons between games/mods and other entertainment media and one thing that struck me yesterday was that every film/TV show and every book (unless it's short stories) has it's length quite obvious to the viewer or reader.
Yes, I know I'm not the first to highlight this, it just happened to seem relevant considering I posted the Anonymous mod idea a few days ago. I've had to submission for that but unfortunately neither were suitable).
Of course, film and TV are different because they are completely fixed and books can be read at your own speed, but we have some idea.
You may know that I add a "playtime" TAG to each map or mod I add to the site, giving some guide to its length, but I doubt many readers pay much attention to the fact.
That said, when I but I game I think I might like to know how long the average plays takes to complete it. Sure, that stats offered by the developer won't be as detailed as those released after the game has been out for a while, like these Episode Two stats, but they might add another point of information.
The key here is the "estimated". Should it be just an average or could some industry standard be created? I suppose different games would require different standards. I mean how would you measure them? Walking through the game in god mode, taking into account all the secrets and caches?
I don't know.
Maybe all we need is the walk through time. That would tell players the minimum time required to walk through the whole game without all the fights, caches, back tracking etc.
The more I think and write about it, the less I am convinced it's possible to create a fair and honest system. Perhaps Valve has the perfect answer with those stats. Of course, hesitant users would have to wait for the early adopters to play through.
Or, Valve could get 100 players of varying skills to play through before the game is released, perhaps at their offices to ensure maximum control, and then publish those results at the time of release.
What ideas or thoughts do you have?
Should games and mods carry estimated play times?
The Poll