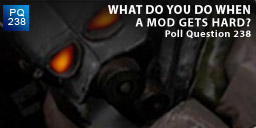 Most poll questions can be answered with "It depends" but as with all my poll question they are asking about generalized situations.
The reason this question is in my mind is that because I have had to cheat a lot recently, but only because I am on a deadline to finish each and every mod. This changes the way I play and if you are one of the players trying to play all the 100SDoN maps and mods, then you might feel that pressure too.
Normally, I take a break and come back another day. Hopefully by then I am fresh and eager to take on whatever particular challenge had previously stumped me.
In fact, it's the same for all challenges, not just gaming. Taking a break and sleeping really does seem to help me.
What about you?
The Poll