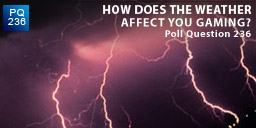 Maybe the questions isn't as clear as it should be, but what I am asking about is the frequency rather than any reference to "style". That could be a whole other topic!
To be honest, I play as much as I want as often as I want, in fact, I generally prefer it when it rains, so I don't feel guilty sitting in front of my PC when the sun is shining.
I get the feeling that gamers schedule their life around gaming, rather than gaming around their life, at least in many cases.
So, how does the weather affect your gaming?
The Poll