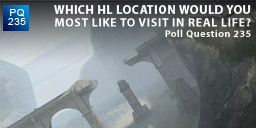 We all have our favourite locations in Half-Life games, but I wonder if the place you enjoyed playing in the most would be the place you would like to visit.
For example, I quite enjoyed Nova Prospekt but I wouldn't want to visit it. Same for Ravenholm.
Perhaps this questions is a little deeper than it first seems. What we do and where we go in gaming doesn't have to be fantasies we would like to see brought to reality. I mean, just because I enjoy shooting alien grunts in Black Mesa doesn't mean that when I wake up tomorrow that's where I would like to be.
Otherwise gaming would be people sitting on beaches and relaxing!
So, which HL gaming location would you most like to visit in real life?
The Poll