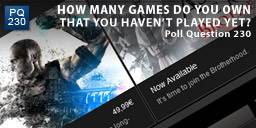 Mine's bigger than yours. There I said it. Let the contradictions begin….
Oh wait, maybe you thought I mean something else. Silly me. My collection of unplayed SP FPS games is bigger than yours. There, that's better.
One day, I will go down to my basement and bring up the two or three boxes I have and lay them out on the sitting room floor and photograph them. Problem is that a lot a from before you were born (Ha! Just kidding) and came with cardbord boxes, which I had to flatten and in some cases rip when I moved from the UK.
That means their value had dropped, but I have gone off on a tangent, sorry.
I have no doubt that I own at least 30 games I haven't played and in some ways that shameful. Shameful waste of money.
Anyway, I'll probably waste some more tomorrow and if the FEAR package is still available for 9.99 Euros I'll get that. Which, of course, got me thinking about the whole unplayed games thing.
I wonder if I will ever play them? Maybe I need to play all the ones on my Steam list before I buy more. The problem is that those Steam Sales are just too good to miss.
Actually, I think I'll wait for the Steam Summer Sale and then waste spend the money.
The Poll