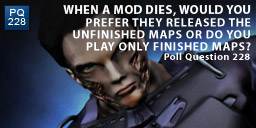 It happens. There's nothing we can do about it. It's a fact of modding life. Sometimes mods die before they have reached maturity. We weep, we look to the sky and wonder what could have been and then we move on with our lives.
Recently a mod that I have been involved with since the beginning announced it was closed. It's a shame because the modder had worked extremely hard over the last three years. Well, whatever the reasons for mods closing, they still leave behind all the work on hard drives.
Some mods release their work, others don't. Occasionally, other modders can continue or finish the work but most times they can't. As you have already seen, this week's question is about the maps. Certain players never play unfinished maps but I believe that most players would play maps as long as the general consensus is positive. What do you think?
When a mod dies, would you prefer they released the unfinished maps or do you play only finished maps?
Thanks to Jack5500 for the basic idea of mods dying.
The Poll