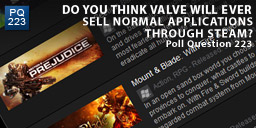 So, this week I was looking around the Steam store and I noticed that everything uses the "http://store.steampowered.com/app/…" URL and that got me wondering why Valve don't sell APPlications through Steam.
I don't own many applications because there are so many free ones available but for some things I buy applications and it would be so nice to just install and load Steam and have my applications available from where ever I can use Steam.
Anyway, as you can see I have offered you six choices for the votes, two for "yes", two for "maybe" and two for "no".
Time to vote.
The Poll