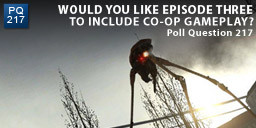 With all the talk about Portal 2 and its co-op feature, finding a first play-through buddy etc, it got me thinking about whether co-op will become the new black.
I believe Valve won't include it in Ep3 simply because it's popular in one game, but it might encourage other developers to try it.
Puzzles haven't traditionally been seen as right for team work, but obviously Portal will work really well and I am looking forward to seeing how community teams find different solutions to those expected by Valve.
In addition, this particular aspect will certainly make modding interesting, although I am not completely convinced that the community will be interested in the long-term. There have been some great concepts in mods that could have been used by the community but were almost ignored. It seems sometimes that it's too much trouble for modders.
Anyway, back to the main question. Having one player as Barney and one as GF, would work, or even one player as a scientist who can do stuff that GF can't. Almost like having classes but within a co-op.
So, would you like to play co-op in Ep3?
The Poll