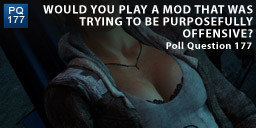 This is a tough question to broach. In fact, I am not even sure that I should start this discussion. I've used the image but I am talking about all types of offensive content.
Personally, I dislike almost anything outside of the basic idea of killing to save my planet and I know that's naive considering the game genre I play but I do feel that some things are off-limits.
There have been a few mods with nudity and sex, along with other image and ideas, in fact, one recent mod had the image of three men hanging and I didn't like that, but in general mods stay within quite a constrained limit of acceptability, and that's fine with me.
I am sure there are readers, probably the more immature amongst my readership, that will feel anything is fine but I truly hope that most will agree some limits are good.
What do you think?
The Poll